Social media is full of events, holidays, and celebrations – some of which you may not even know about! But they can be the perfect opportunity to make the most of your business or organization's social presence. To help you make the most of these social media opportunities, here's your ultimate calendar of social media holidays, along with some tips and ideas on how to use them to your advantage!
We created a free downloadable social media holidays calendar with a list of key dates and holidays to help keep you inspired throughout the year. Don't let social media marketing take a backseat during the holidays. As you plan for next year, here are important dates to remember. If you have time and resources, consider planning your content ahead of time for these major upcoming events (in North America). You can set goals beforehand and have your social media campaigns ready on your busiest days or weeks! It will save you time and energy in years to come. We also included some other non-holiday events that might be interesting too. Enjoy!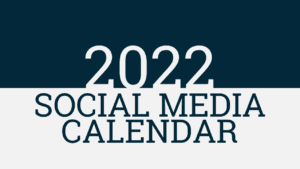 PLEASE NOTE: This is a suggested list of holidays primarily for the U.S and Canada to help you keep up with your content each month. There may be other local holidays that are just as important to your local audience so keep that in mind as you plan for 2022.
Download your FREE 2022 Social Media Holidays Calendar now